Robot Tech
Cleaning and Disinfection Robots: Overview, Applications, and Limitations
Cleaning and disinfection robots clean up waste, and kill bacteria and viruses. Learn how they work, where they can be used, and where to source them.
The pandemic accelerated interest in cleaning and disinfecting robots. People want cleaning done more often and more thoroughly than ever before. Prior to COVID, cleaning had been considered a low-risk, low-skill job. Suddenly, it became a job that carried a significant risk of infection. Consequently, some workers are more hesitant to accept cleaning jobs. Also, labor shortages have affected the cleaning industry. Combine these factors, and it means cleaning robots have become more critical than ever.
We can divide the cleaning and disinfection robotics market into two segments: personal and commercial. In this article, we will consider only the commercial applications.
We explore cleaning and disinfection robots through the following topics.
Market Size and Growth

Disinfection Robots 

Floor Cleaning Robots 

Bathroom Cleaning Robots

Pool Cleaning Robots  

Street Cleaning and Garbage Collecting Robots

Solar Panel Cleaning Robots

Complementary Equipment or Considerations

How to Find Cleaning Robot Suppliers
Market Size and Growth
The cleaning and disinfection robot market size is rising rapidly.  Emergent Research estimated in 2020 that the global market size for cleaning robots was US$ 6.9 Bn. They projected a growth rate of 23.0% per year from 2020 to 2028. So, the market size will reach US$ 36.05 Bn by 2028. That is a fivefold increase in 8 years.
Disinfection Robots
There are several benefits to using robots for disinfection. They are faster and more thorough than humans, safer to use, and can even improve patient access to expensive equipment.
Speed and Effectiveness
Many commercial cleaning robots use Ultra-Violet (UV) radiation to disinfect surfaces. Studies have shown the effectiveness of UV radiation in killing viruses and bacteria. Because this is a "touchless" method of cleaning, it is faster than manual methods involving wiping with a cloth.
The technology is available and there are multiple vendors from which to choose.
At the Sharp Grossmont Hospital in San Diego, all COVID patient rooms are disinfected daily by cleaning robots. According to an article in the Washington Post, they can do it in 12 minutes and more thoroughly than workers can do in 90 minutes. In addition, robots can disinfect hard-to-reach surfaces more effectively than humans.
Safety
Cleaning and disinfection robots help to keep cleaning personnel safer. With robots doing the dirty work, cleaning people do not have to touch cleaning fluids or contaminated surfaces.
Airports use UV disinfecting robots to clean surfaces, handrails, and areas often touched by people's hands. Such cleaning is an enormous job and carries potential risk if done by human workers.
Improve Patient Access to Equipment
In some cases, cleaning robots enable patients to have better access to equipment. For example, in radiology, unskilled cleaning people are not allowed to touch the expensive equipment. So, the radiology staff must do the cleaning. The time needed for cleaning has caused significant delays in scheduling appointments for patients to receive tests. The ultra-violet (UV) radiation cleaning robots can disinfect radiology equipment without touching it. And it can be done much faster - from two to four times more quickly than by manual methods, according to a research article published in January 2021. 
Spraying of Disinfectants
Another approach is to have the robot use disinfecting sprays. Some UV robots have an optional spraying attachment enabling them to create a fog of hydrogen peroxide. But this requires no people to be around, and that may not always be practical.
Floor Cleaning Robots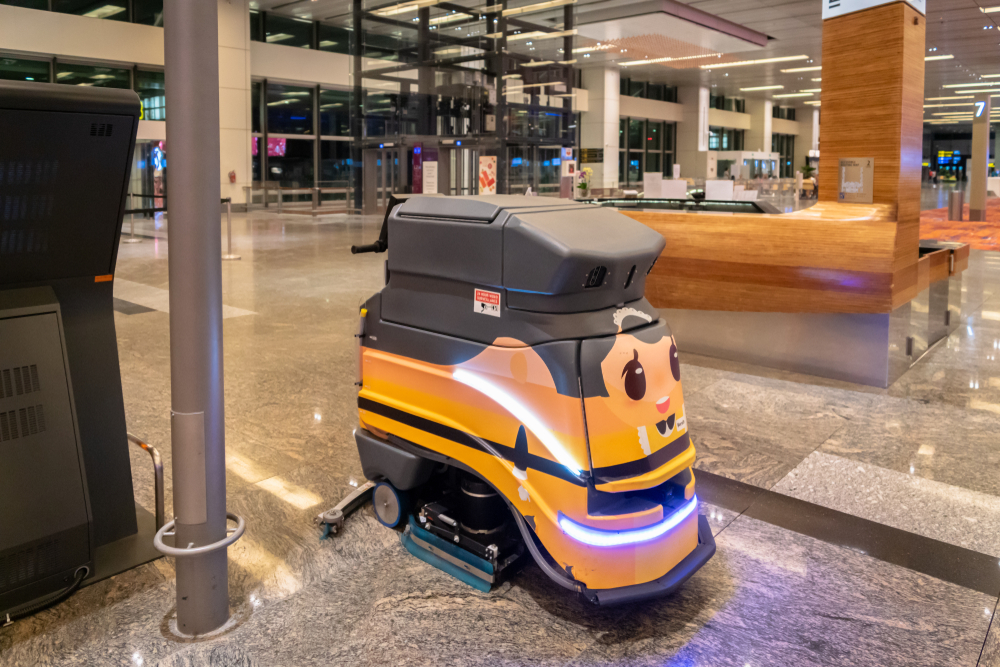 Robotic floor cleaners have become well established. They can mop, vacuum, and polish floors autonomously.
The pandemic has made the public much more conscious of cleanliness. For many people, it has become the essential factor in deciding where to eat or stay overnight. Thus, cleaning robots are beneficial for restaurants, hotels, and convention centers, not only because they help keep things cleaner and relieve the burden on staff.
Robotic floor cleaners are labor-saving machines, but they cannot run entirely independently. An operator must still replace cleaning fluids and empty the dirty water container on mopping robots. A worker must empty the dustbin of vacuum cleaning robots. Someone must teach the floor plan to the bot. Usually, this involves an operator guiding the machine around the facility. Once the floorplan is learned, the robot can travel independently.
Request offers for floor cleaning robots from suppliers.
Bathroom Cleaning Robots
The market for robots that can clean bathrooms is still in its infancy. There are cleaning solutions that offer a "touch-free" system. It is a multifunction machine that starts with a power spray. The next step is a vacuum that removes the dirty water. Finally, the device uses a blower to dry things off. All of this is included in one compact machine. Undoubtedly this saves labor, and it saves workers from having to stoop over and scrub. But the device must still be used by a cleaning person.
For a truly autonomous solution, there appears to be only one vendor at the time of this writing. The robot follows the three-step process described above. But it does so without the need of a human. Videos show the robot spraying and vacuuming a bathroom by itself. It has a robot arm that can change tools. So, it can use a power-sprayer, a vacuum, and a brush. It would appear the robot arm cannot reach behind the toilet. The robot has a limited ability to manage variations in toilets and urinals. It is advertised as a monthly service rather than as a purchase.
There is market potential for more vendors to provide bathroom cleaning robots, so it seems likely that we will soon see new suppliers.
Pool Cleaning Robots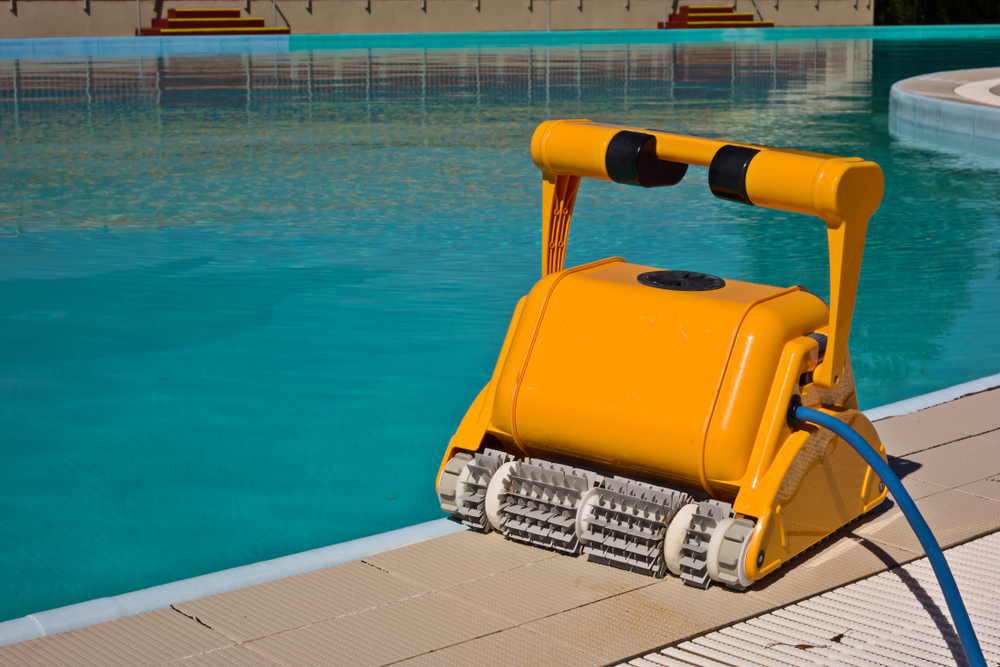 Robotic pool cleaning is an established technology, and there are various vendors from which to choose. The robots have intelligent navigation that allows them to cover the entire pool. They are equipped with brushes to clean away dirt, debris, and algae. Some offer remote control.
For large pools, commercial pool cleaners have an electrical cord to supply power. There are battery-powered models available which offer various runtimes between charges.
However, human intervention is still needed. Pool cleaning robots must be cleaned by an operator. They collect debris and gunk in a container that must be emptied.
Request offers on pool cleaning robots from suppliers.
Street Cleaning and Garbage Collecting Robots
In outdoor applications, most of the solutions are still in their beginning stages. Garbage collection robots for cleaning beaches and parks are beginning to appear. But most of the solutions are not autonomous. Instead, they are remotely piloted by an operator who can be up to 300 meters away.
Autonomous street cleaning robots are being evaluated, and pilot projects have shown promising results. However, the safety certifications are not yet there.
There are floating robots that collect garbage and clean rivers and bodies of water. They are also still in the preliminary stages. Most such robots are cleaning machines run by people.
Solar Panel Cleaning Robots 
There is a debate about how often solar panels need to be cleaned. A consensus seems to be every six months. Of course, this depends on your location. One thing is certain:  the efficiency of solar panels goes down when they become dirty. Having a low-cost way of cleaning the panels is vital.
Walking on top of solar panels would damage them. And often, the panels are found on rooftops or other hard-to-reach locations.
Robotic solar panel cleaning solutions are in operation worldwide, and there are numerous vendors offering solutions. In desert areas, the robots use a dry system with brushes or using a microfiber cloth. There are solar panel cleaning robots that carry a tank of fluid for cleaning. Still others have a tube that carries the cleaning fluid to the unit. Some models can travel along tilted panels.
Most such solutions offer only a degree of autonomy. An operator is needed to oversee and often remotely control the unit.
Sometimes, a crane may be needed to hoist the robot into position.
Request offers on solar panel cleaning robots from suppliers.
Complementary equipment or considerations 
Cleaning robots need charging stations. Many robots can automatically return to charge themselves. But the charging facility must be set up and electricity supplied. Fluids must be supplied and replenished, and the robots need to periodically be cleaned.
You will need to consider whether the robot must open doors or travel on elevators. If this is necessary but not possible, you would need more robots.
How to Find Cleaning Robot Suppliers
HowToRobot is a global platform connecting end-users with robot and automation suppliers worldwide. We have the world's largest directory of robotics companies. Using our guide, you can find the type of robot you need, ideally suited for your application.
If you are looking to automate a cleaning task, you can get tailored solution proposals from various suppliers. Simply describe your project and start receiving answers.
You can also get quotes and receive product information for specific cleaning robots, parts, components, and consultancy services. You will receive product information and pricing from multiple vendors.
There are impartial HowToRobot experts who can help you navigate through the process. Set up a consultation with an expert advisor.