Robot Tech
Delivery Robots: The Cost-Saving Future of last Mile Shipping
Get an inside look at how delivery robots are transforming the last mile of delivery. Learn how they work, and where to source them at the best price.
The "last mile" of package delivery is the most expensive and labor-intensive. Companies are racing to implement delivery robots that can address this challenge.
A delivery robot carries a payload from a source to its destination. In some cases, the robot will travel along hallways and elevators and stay within a building. In other cases, the bot will go outside and carry its packages to customers at their homes or workplaces.
Consumers' desires for faster delivery are one factor behind a significant increase in delivery robots. Another element impelling adoption is eCommerce, which has caused the number of packages delivered to skyrocket. And yet a third influence is the effect of COVID. There was a labor shortage already in the making before the pandemic. Then COVID made matters much worse - reducing the available workforce in a variety of ways. Not only because of sickness and death but also indirect factors like staying home to take care of children. And the fear of contagion contributed to an increasing demand for contactless delivery services.
The market for autonomous delivery robots is still in its infancy. Yet, the demand for delivery robots is indeed zooming upward. The worldwide market for delivery robots was estimated to be US $24.30 million in 2019. According to Verified Market Research, annual sales are projected to reach US $236.59 million by 2027, growing at a cumulative annual rate of 34.3%. Companies that offer delivery robots are rushing to supply the surging demand.
Below we list some of the industries using delivery robots and their various uses.
Industries Using Delivery Robots
Within buildings:
Restaurants
Take orders from customers at the table

Deliver food to the table

Carry dirty dishes back to the kitchen (with a person loading the plates and glasses onto the robot)
Hospitality – Hotels and Convention Centers
Show lodgers to their room

Bring items to customer's rooms (towels, toiletries)

Deliver food service to the room

Carry luggage to and from the rooms
Hospitals
Deliver test samples from a patient's room to the lab

Carry soiled linens from a patient's room to the laundry

Transport waste to the disposal area

Deliver food to patients' rooms

Bring mail and packages to patients' rooms.
Outside of buildings:
Each of the companies that deliver packages has an active delivery robot program, including DHL, FedEx, and UPS, among others.
Not only giants like Amazon and Walmart but also local grocery stores, pharmacies want to use delivery robots.
Fast food delivery is a huge market for delivery robots.
Humanitarian organizations.  
Delivery of medicine and food to remote areas.
Request offers on any type of delivery robot from suppliers.
Land-based Delivery Robots
Most land-based delivery robots resemble a box with wheels. There are three kinds:  the first type travels only within a building. The second are those that travel along sidewalks and crosswalks, but not along public roads. And the third type are over-the-road self-driving vehicles.
Having a robot deliver food to your table is still a novelty, but it may soon become commonplace. Robots that provide extra towels or room service to hotel guests save labor and have been well received. Hospital robots can perform numerous delivery services and thereby free up personnel to concentrate on more high-value activities. Robots that only operate inside buildings tend to be taller and more slender so that they can more deftly wend their way along hallways or between tables. 
Delivery robots that travel along sidewalks are usually about the size of a cooler and travel at a walking speed. Over a dozen states in the US have legally classified such robots as "pedestrians."  Since they are lighter and move more slowly, they represent a lower risk of damage in case of a mishap. Being considered a pedestrian puts the bar lower for regulatory approval. Sidewalk bots are especially gaining acceptance on college campuses. For example, the delivery robot company Starship is reported to have service on nearly 20 different campuses in 15 states in the United States. Vendors include Starbucks, Panda Express, Panera Bread, and Subway, among others.
Robots that travel over surface roads are heavier and faster. They can potentially do more damage if there were to be a malfunction. So, they must meet a higher standard of safety. In some cases, people drive such vehicles via remote control. The first regulatory allowance for a genuinely autonomous delivery robot traveling public roads was granted by the US Department of Transportation in February of 2020, according to an article about Nuro.  There are still only a limited number of locations where autonomous on-road delivery robots can legally operate.
Ground-based delivery robots typically have a keypad mounted on the outside of the robot. When the bot arrives at its destination, a text message alerts the customer. A numeric code is included in the text. The customer meets the robot and types the code into the keypad, thus opening a latch. And the goods can then be retrieved from the robot.
Advantages to land-based delivery robots include:
Faster delivery. With a fleet of robots, there's no waiting for the next delivery person to be available

Personnel can focus on higher-value activities. Nurses can focus on tending to patients. Restaurant staff can pay more attention to customers in the restaurant.

The robot lessens dependence on labor for low-value tasks in the context of a labor shortage.

More predictable delivery because robots don't need breaks or downtime.

Increase productivity - get more done with the people you have.

Less costly than having people do the transportation.

The customer can retrieve their goods without contact with another person. Contactless delivery is vital in a pandemic environment.
Limitations
There are still concerns about the technology, primarily regarding safety. Driving a car is a highly complex task involving many variables. Unexpected conditions can and do arise. So, the safety of over-the-road self-driving delivery robots is still a major consideration. The question of safety has limited the regulatory approval of delivery robots that drive over public roads.
For sidewalk robots, regulatory approval has been somewhat easier to obtain. This is because the robots are smaller, and they travel at a walking speed. Yet, there are concerns. For example, what about the pedestrians who don't pay attention to their surroundings? How can the mobile robot handle this? There is also the question of vandalism or theft. Some of these nagging questions remain.
Aerial Drones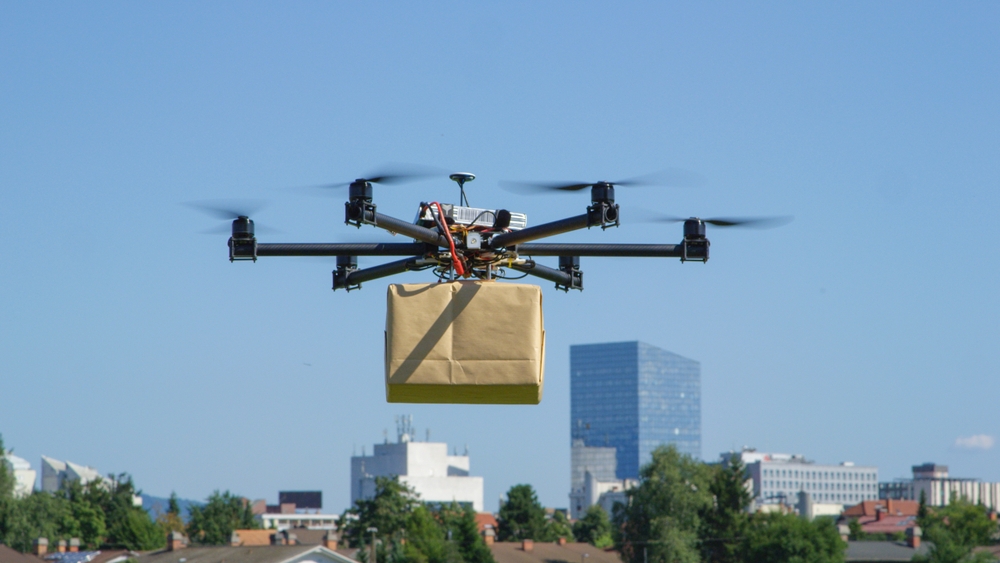 Aerial drones, also known as UAVs (unmanned aerial vehicles), have many advantages as delivery robots. Of the more than 100 million products sold online every day, 90% of those fit the weight range for drone delivery, according to Air Box Technologies. 
However, they still have a way to go in terms of regulatory approval.  
The giants of eCommerce and logistics all have programs for aerial drones. This includes FedEx, UPS, Amazon, Walgreens, Walmart, DHL, and many others. It appears the technology is ready.  The difficulty in adoption is mainly regulatory and legislative, and it depends on location.
In January 2021, the US Federal Aviation Administration (FAA) granted the first license for a BVLOS delivery robot. BVLOS is "Beyond Visual Line of Sight."  Such a license is necessary for drones that travel out of sight of the operator. The permit enables delivery drones to travel along pre-set routes in rural areas.  The maximum allowed altitude in the USA is 400 feet. Under the present approvals, the drones must be remotely monitored by a human pilot, according to Aviation Today. 
A clear advantage to aerial drones for package delivery is speed. The aerial drone avoids congested ground transportation routes. This not only makes the travel faster but also more predictable. there are no more worries about rush hour.
Humanitarian organizations are using drones to transport medicines, vaccines, and other medical supplies. When there are few roads or in mountainous areas, drones are especially beneficial. In addition, the drones can deliver test samples from a remote area back to a testing laboratory. By reducing the turn-around time, more people can be treated, and more lives can be saved.
In most cases, giant corporations like Amazon and FedEx have the resources to make their own robots. Or they can buy a company that does.  Fortunately, for smaller companies, there are now vendors offering delivery robots. Prices are coming down, making them more accessible.
Limitations
Some of the limitations of aerial drones:
Safety consideration and regulatory approval hamper the adoption of delivery robot technology. What might happen if a component malfunctions and the drone crashes to the ground in a heavily populated area?

Limited package weights mean larger and heavier items cannot be delivered by aerial UAVs.

Small drones are susceptible to harsh weather and can be adversely affected.

National security and law enforcement considerations are also quite important. For example, remote identification is now required for unmanned aircraft, according to the Federal Register.    
Economic Considerations
Self-driving vehicles that travel over surface roads are typically more expensive than robots that travel only on sidewalks or inside buildings. Over-the-road robots are larger, heavier, and must adhere to a higher safety standard. For aerial drones, the payload capacity, speed, and radius of travel will influence the price. You can expect to pay more for a drone that can go very fast and far than for one that goes more slowly over a shorter distance. In a report by Ark Invest cited by the U.S. Department of Transportation, delivery drones that deliver packages up to five pounds and travel ten miles or less are estimated to cost between $1000 and $3000. One vendor advertises a delivery drone that can transport 3kg of supplies within a 175km radius. Pricing has not been made publicly available. One "long duration" drone uses high octane fuel and features an 11 kg payload capacity with a maximum endurance of 20 hours. It is advertised at $175,000.
You can buy delivery robots, and you can also rent them. Robotics-as-a-service (RaaS) is increasingly popular. RaaS reduces the entry price and makes delivery robots more accessible, especially for small companies. You can try them without having to make a large financial commitment. In addition, the number of vendors that offer drone delivery services is growing rapidly.
Complementary Components
Delivery robots that operate within buildings need to be able to open elevators and doors. Such a capability may entail significant investment beyond the robots themselves.
Ground-based delivery robots will need charging stations. Aerial drones need a launch area, as well as the ability to recharge their batteries.
How to Find Delivery Robot Suppliers and Integrators?
HowToRobot is a global platform connecting end-users with robot and automation suppliers worldwide. We have the world's largest directory of robotics companies. Using our guide, you can find the type of robot you need, ideally suited for your application. 
If you want to automate a delivery task, you can get tailored solution proposals from various suppliers. Simply describe your project and start receiving answers.
You can also get quotes and receive product information for specific delivery robots, drones, parts, components, consultancy services, etc. You will receive product information and pricing from multiple vendors. 
Please note there are impartial HowToRobot experts who can help you navigate through the process. Click here to set up a consultation with an expert advisor.